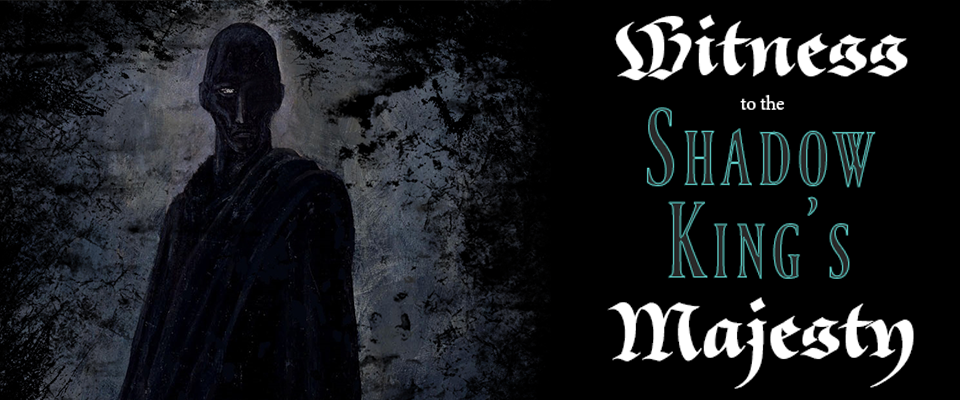 Witness to the Shadow King's Majesty
The Shadow King reigns in Graven-Tosk, and there are precious few who would dare cast doubt upon the certainty of his rule. Fewer still have ever laid eyes upon his terrible countenance. Those so blessed all incur the tax of hungry mayhem, a special fee collected by the Shadow King's crows, who only accept payment in cornea, sclera, and iris. You are one such unworthy, left with but one eye to tempt you into a second (and final) blessing.
The Witness to the Shadow King's Majesty is a fully developed class for use with the death metal artpunk TTRPG Mörk Borg. It fits all of the typical themes for it right out of the box, but if you want to play your game with an extra hint of tragic/dark fantasy, to be a (dim) light shining in the darkness, this is definitely designed with that flavor in mind. You can certainly spin it either way, but this class comes with just a hint of flavor to elevate you an inch or two above the muck ever so slightly if that's your preference.
Witness to the Shadow King's Majesty is an independent production by Cody Faulk and is not affiliated with Ockult Örtmästare Games or Stockholm Kartell. It is published under the MÖRK BORG Third Party License. MÖRK BORG is copyright Ockult Örtmästare Games and Stockholm Kartell.
Purchase
In order to download this class you must purchase it at or above the minimum price of $1 USD. You will get access to the following files:
Claim or Donate Free Community Copies of the Class
Support this class at or above a special price point to receive something exclusive.
Community Copy
If you are in need and can't afford a copy of the class, help yourself to a free community copy of the Witness to the Shadow King's Majesty below.
Every paid purchase contributes more free community copies to the pool, so your generosity can help others experience the class:
1 purchase at the minimum price = +1 community copy
Tips in $2 increments over the asking price add an additional +1 copy per $2