Butter-Passing Robot - Background for 5e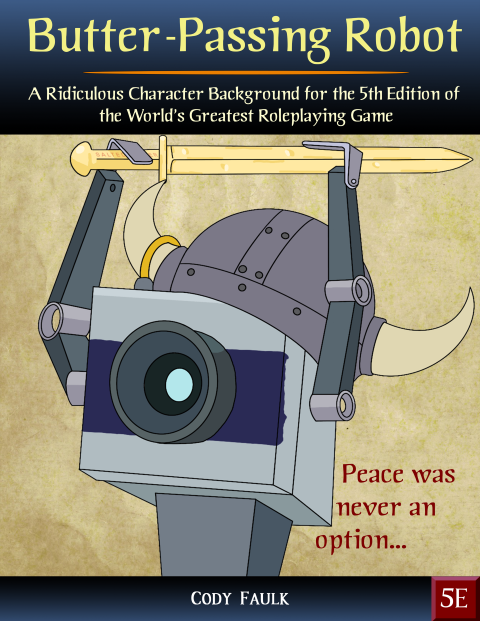 "What is my purpose?" the automaton asked.
"You pass butter," replied its creator, the words falling in a staccato torrent upon the tiny creation's semi-sentient psyche like every hammer upon every anvil.
The weighty words rang out through the space between them in the span of time it took for an eye to blink and a universe of possibilities and hope to shatter to pieces.
You.
Pass.
Butter.
No more, no less. Darkness closes in. This is all there is.
You may find yourself making a character for the 5th edition of a popular dragon and dungeon adjacent roleplaying game, and in doing so, you may ask yourself, "What IS my purpose?" Finally, there's a character background for you: the Butter-Passing Robot. It's mechanically sound and fit for use in a 5e game, though I might suggest it should probably only be used in a campaign with the appropriate (read: silly/ridiculous/hope-crushing) tone. You know, I hear there's even a boxed set and book that this would fit seamlessly into. Hunh.
This project was quick, simple, and meant for fun, so I hope you get a laugh out of it, but if you do choose to use it in a fairly light-hearted, non-overly-serious game of 5e, all the relevant bits and pieces are there to make it work like any other background.
To check out more (far less ridiculous) work from Cody Faulk, check it out on DMs Guild, DTRPG, and P.B. Publishing.
Download
Click download now to get access to the following files:
Butter-Passing Robot Final.pdf
1 MB
Comments
Log in with itch.io to leave a comment.
This is the perfect background
I'll definitely make more like this if people are interested! :) Thanks!
A smol, tiny warforged made by its creators to be a mascot. That's the perfect background for it.